Relax, Stretch & Breathe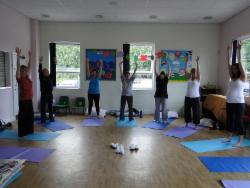 NCT Relax, stretch & breathe is a weekly class designed for women beyond 12 weeks of pregnancy they encourage gentle yoga inspired stretching to ease the aches and pains of pregnancy and also include movement and breathing to help with the birth.
Each session consists of gentle stretching, breathing, practice for labour and relaxation . There is an oppprtunity for discussion and a chance to get to know the other women in the group. I regularly have Mum's who have done the session during pregnancy returning to tell their birth stories. The sessions also offer an opportunity to take time out from your busy life to focus on you and your baby.
Relax, Stretch & breathe sessions are held on a Monday night from 7.30-9.00pm at the Salvation Army Community Church in Sythwood, Goldsworth Park to see on a map click here
Sessions cost £9, and are payable in blocks of 4 weeks in advance until 35 weeks and then can be paid weekly. If cost is an issue please contact me as the NCT offers concessions for those on incomes below 26,000.
To find out more or book a place please contact Me including your due date.